History
Elsafe España S.A. was founded in 1981 with the purpose of introducing electronic safes, designed specifically for a hotel room. Our company was a pioneer by installing the first electronic safes from the Elsafe brand in the Spanish mainland, starting with the Meliá Don Pepe Hotel in Marbella.

All these years of hard work have resulted in a strong expansion, reflected, first by the acquisition of the company Elsafe Madrid S.A., later Elsafe Baleares S.L., to consolidate us as the most important company in the mainland, dedicated to selling and renting hotel safes and minibars.

In the year 2010, Elsafe España enters the Portuguese market by acquiring the company Elsafe Portugal Lda. More recently, in the year 2014, we continue the expansion by the acquisition of the company Cofrhotel Lda., founded the same year as our company, in 1981, and having the largest number of hotel safes in rental mode in our neighbouring country.

Thanks to our ambition of providing quality products and services, we have managed to grow during all these years, to become leaders in selling and renting safes and minibars for hotels, in Spain and Portugal.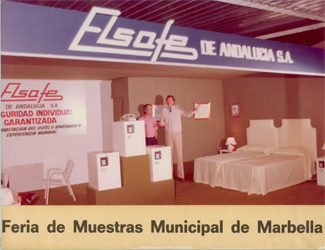 First exhibition in the mainland of electronic safes in the Feria de Muestras Municipal de Marbella (1983).