ELITE Top Open

on the crest of design and security
Our most advanced premium safe line, the ELITE electronic safes, are intended for the most demanding hoteliers that want to enlighten their guests. They are equipped with a soft, backlit ADA keyboard and a clear blue display to simplify the use of the safe. This model includes the professional online rental management software RentYourSafe.com, as well as the exclusive online emergency opening system – Emergency Reset Code. These safe models are available in the traditional front opening mechanism and also in the top opening format.
Tablet
Laptop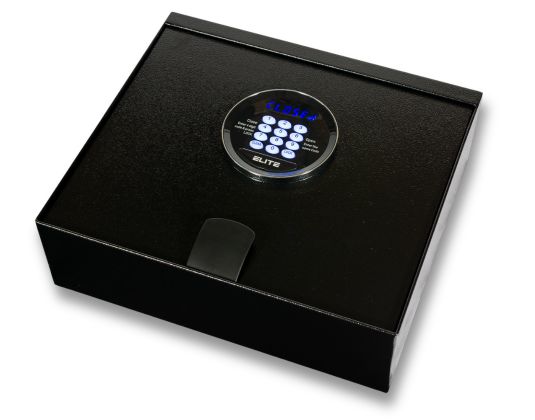 Specifications ELITE Top Open Safe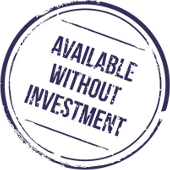 Modern Top Open design.
Motorized electronic safe.
Low consuming interior LED light.
Battery powered via 4 alkaline batteries type LR6-AA.
Illuminated LED display to visualize the guests' code.
Illuminated ADA keypad with sound to improve user interface.
Motorized locking function by pressing a key.
Solid double cylinder bolts, 20mm chromed, rotating anti-drill.
Reinforced frame anti-lever break-in.
Steel thickness, 5mm on door and 2mm body
Mechanical emergency override opening as standard.
Audit Trail showing last 100 safe openings and closings.
Flash RAM memory (no data is lost even if batteries run out).
Low battery indicator.
Personalized 4 digit guest user code.
Fixing holes and screws on the base and back planes.
Elegant standard black colour finish (others upon request).
Quality interior carpet covered surface.
Exclusive online rental management software RentYourSafe.com.
Quality standard certified ISO 9001:2008, RoHS y CE.
ERC: Emergency Reset Code - exclusive online emergency openings management.
Dimensions: 114 x 324 x 324 mm (Tablet), 127 x 400 x 350 mm (Laptop)
Optional: Electronic handheld unit.

| | | |
| --- | --- | --- |
| Technical Specifications | ELITE Top Open Tablet | ELITE Top Open Laptop |
| Standard dimensions (Height x Width x Depth, mm) | 114 x 324 x 324 | 127 x 400 x 350 |
| Interior dimensions (Height x Width x Depth, mm) | 60 x 320 x 320 | 73 x 396 x 346 |
| Interior Volume (litres) | 6.14 | 10.0 |
| Audit Trail showing last 100 openings and 100 closings | Yes | Yes |
| Interior LED light | Yes | Yes |
| ERC Emergency Reset Code | Yes | Yes |
| RentYourSafe Software | Yes | Yes |
| Size for a 15in Laptop | No | Yes |
| Standard colours (others available by pre-order) | Black | Black |
| Emergency mechanical key | Yes | Yes |
| Batteries (included) | 4xLR6-AA | 4xLR6-AA |
| Net weight (kg) | 9 | 11 |
| Door thickness | 5mm | 5mm |
| Double locking bolts diameter | 20mm | 20mm |
| Electronic handheld device with user PINs | Optional | Optional |
| Interior electric outlet | Optional | Optional |
| Certifications | ISO9001, RoHS, CE | ISO9001, RoHS, CE |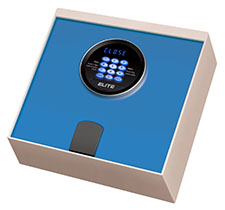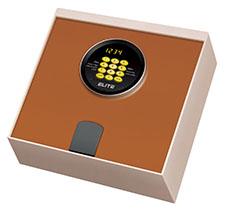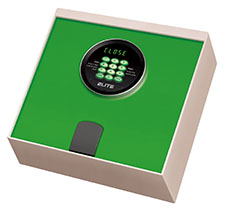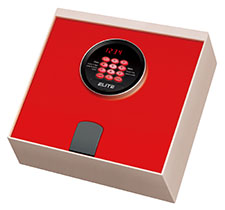 You may also be interested in