Electronic Hotel Safes
The electronic hotel safe models ELITE, ECOSAFE and STARSAFE, are the result of more than 40 years experience in the hotel industry. Our hotel safes provide top security protection for the comfort of the guest. Our objective is to offer electronic safes with an innovative design and premium quality, taking into account that the operation must be made simple and intuitive for the hotel guest. All our safes offer an audit trail functionality that registers the latest opening and closing operations. These safe models also include a mechanical key for emergency openings or an optional electronic handheld opening device.

We produce under strict quality management standards to ensure absolute reliability. All of our hotel safes are available for sale and also in rental mode. Please contact us for further details.

Our most advanced premium safe line, the ELITE electronic safes, are intended for the most demanding hoteliers that want to enlighten their guests. They are equipped with a soft, backlit ADA keyboard and a clear blue display to simplify the use of the safe. This model includes the professional online rental management software RentYourSafe.com, as well as the exclusive online emergency opening system – Emergency Reset Code. These safe models are available in the traditional front opening mechanism and also in the top opening format.

The ECOSAFE hotel safes are our most sought after electronic safes, due to their excellent quality / price ratio and available in three sizes, ECOSAFE Laptop, ECOSAFE Tablet and ECOSAFE Office. These electronic safe models have a modern design that adapts well to any hotel interior. It is a solid safe, with curved profiles and large keys and display for ease of use. Optionally, this safe can be upgraded to use with our online rental management software RentYourSafe.com.
You may also be interested in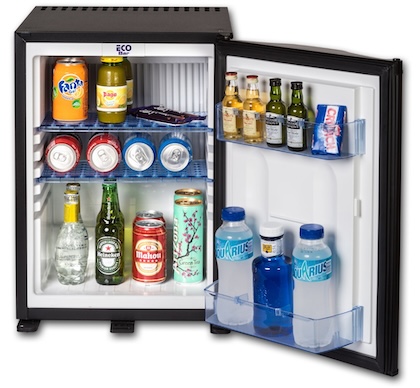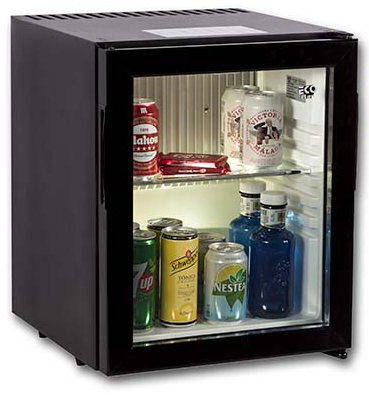 The silent Glass Door minibar models enhance the room with a luxurious distinctive feature.
Various sizes available.