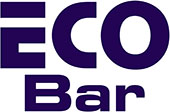 Minibar ECOBAR Classic

the hotel minibar with the best quality/price ratio
The ECOBAR hotel minibars, provide a first class service for the guest. They are equipped with the latest, low consuming, absorption technology. They provide completely silent refrigeration, without any vibrations, without any moving parts or fans. This characteristic is essential for any hotel room minibar, where the guest's rest and comfort must be guaranteed. In addition, the fact that there are no moving parts, offer a maintenance-free operation, extremely high reliability and a long lasting appliance with a lifespan considerably longer than other minibars with different type of refrigerating technologies. All our minibars are outfitted with electronic thermostats with intelligent autodefrost technology for a better interior temperature regulation.

All of our hotel minibars are available for sale and also in rental mode. Please contact us for further details.
25lt
30lt
40lt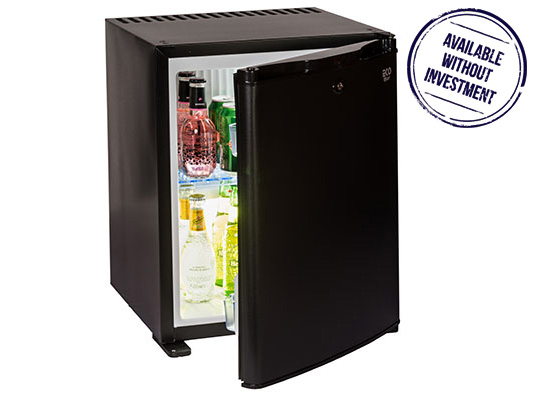 Minibar ECOBAR Classic Specifications

Continuous absorption refrigeration, completely silent.
Intelligent automatic defrost.
Advanced low consuming technology.
Adjustable interior temperature.

Interior light LED type as standard.
Attractive reinforced translucent interior shelves.
Strong magnetic rubber gasket sealing.
Easy to change opening direction.
Free from HCFCs and CFCs complying with current regulation.
Thermal insulation produced with Cyclopentane.
Meets EU energy efficiency requirements (EU 2023)
Environmental management certification 14001, RoHS and CE.
Quality management certification ISO 9001:2008.
The different minibar models in the ECOBAR Classic product line are designed to any type of hotel. These minibar models are the most sought after, due to their excellent quality / price ratio. The minibars are equipped with a low consuming LED type interior light as well as a door lock. The minibar door lock can be disengaged if they are not required.
Technical Specifications
ECOBAR 25lt Classic
ECOBAR 30lt Classic
ECOBAR 40lt Classic
ECOBAR 60lt Classic
Dimensions (Height x Width x Depth, mm)
465 x 350 x 395
500 x 402 x 445
560 x 402 x 471
605 x 460 x 490
Gross Volume
22lt
29lt
36lt
45lt
53lt
Autodefrost
Intelligent Defrost
Intelligent Defrost
Intelligent Defrost
Intelligent Defrost
Intelligent Defrost
Interior Light
LED Low Consuming
LED Low Consuming
LED Low Consuming
LED Low Consuming
LED Low Consuming
Noise level (EN60704-1 & 60704-2-12)
0 dB
0 dB
0 dB
0 dB
0 dB
Noise Class (UE 2019/2016)
A
A
A
A
A
Power (W)
65
65
65
90
90
Consumption (kWh/24h)
0,69
0,63
0,63
1,00
1,00
Annual Consumption (kWh)
253
230
231
365
365
Energy Efficiency Class (legacy)
C
C
C
C
C
Energy Efficiency Class (EU Regulation 2019/2016)
G
G
G
G
G
Adjustable Interior Temperature
Yes
Yes
Yes
Yes
Yes
Adjustable Interior Shelves
1
1
2
3
2
Door Shelves
2
2
2
3
2
Door Lock
Optional
Optional
Optional
Optional
Optional
You may also be interested in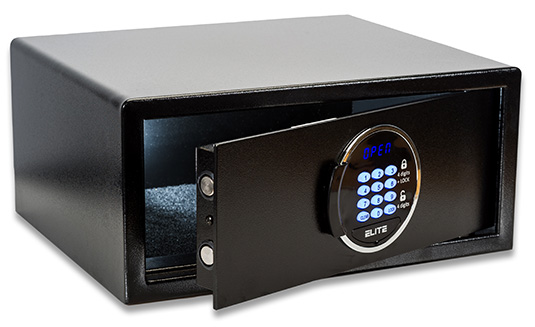 The ELITE model combines design and security. For hotels looking to impress their customers.
Various sizes available.